H-class lnsulation Dry-type Transformer

Description
Class H insulation
The insulation endurance class of dry-type transformers include: B, F, H, C, etc.; the heat resistance can be classified into 130°C, 155°C, 180°C and 220°C. Since DuPont new materials and technologies are adopted, the SG(B) dry-type transformers thus produced can reach class H insulation endurance and critical parts can reach class C.

Safe
SG(B) series products are dry-type transformers with top safety performance in the present day. None of the insulating materials is combustion supporting and they are self-extinguishing and non-toxic. SG(B) series products have strong advantages in severe environment which has high fire protection requirements and high load fluctuations and are filthy and damp, such as: airports, power plants, metallurgical industry, hospitals, high-rise buildings, shopping centers, dense populated regions, electric power, subway, ships, petrochemical engineering, nuclear stations, nuclear submarines as well as other special environment. Blowers and enclosures can be furnished as required.
Reliable
SG(B) series new products adopt special coil design, technology and materials, contributing to their excellent three proofing properties (damp proof, mold proof and salt spray proof), better thermal shock resistance and perfect soundness.
The Nomex° aromatic polyamide based insulation system can guarantee optimal point performance and mechanical properties during the entire service life of the transformers.
Nomex° products have strong aging, shrinkage and compression resistance as well as strong elasticity, so that the coils will still maintain their compact structure and short circuit bearing capacity after years of service.
SG(B) series new products utilize new structures, new materials and new technologies and have excellent heat dissipation, long thermal life and strong overload capacity. They can operate reliably for long periods under the condition of 120% overload. Forced air cooling is not required under IP23 conditions and they can still operate at full loads for a long time.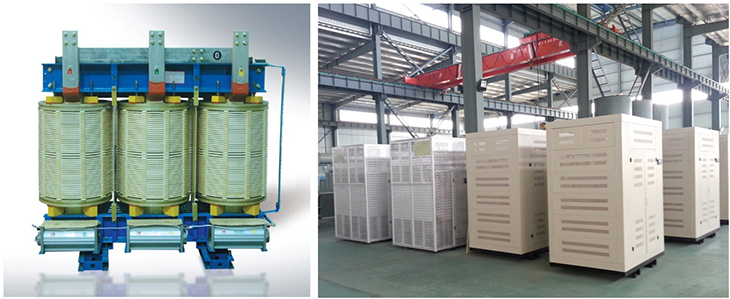 Find your suitable Equipment, leave an inquiry to know more details about Price,Packing,Shipping.